HQH PERKS BLACKFROST
We purchased Perks as a yearling in 2016 from Bill and Brenda Harmon at Chester, Montana. After seeing his baby pictures we knew that we had to go and see him. His first foal crop hit the ground in 2018 and we are sure happy with them. He has crossed well on a variety of mares. Perks is enrolled in the CBHI and Breeders Elite Incentives, check them out below.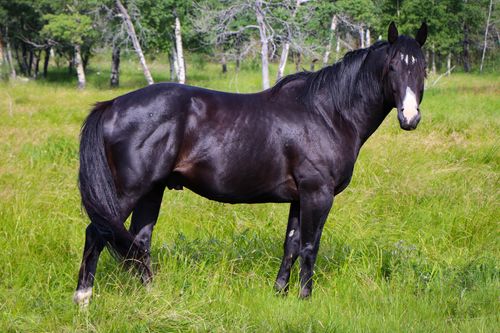 2015
AQHA Homozygous Black (aa EE)
5 Panel N/N
1979

Palomino - Sire of Multiple Barrel Racing & NCHA Money--over 2 million. Earners NCHA Lifetime Offspring Earnings As Of 12/3/2001 $236,702 with 20 money earners; Full brothers French Flash Hawk and PC Frenchmans Hayday are NFR qualifiers. Sire of French Flash Hawk, aka Bozo, 4-time WPRA World Champion Barrel Horse and 5-time WNFR Average Winner 1994-1998, five straight years. Winner of major rodeos: Houston, Cheyenne, Calgary, etc. Sire of PC Frenchmans Hayday, WNFR money earner for Sherry Cervi and prorodeo winner. Also prorodeo winner in heeling. Sire of Sun Frosted Rocket a 2004 palomino stallion, WPRA money earner, and 1d money earner as well. Sire of PC Bronsin a 1985 buckskin stallion. Sire of Frenchmans Guy #1 Barrel horse sire.